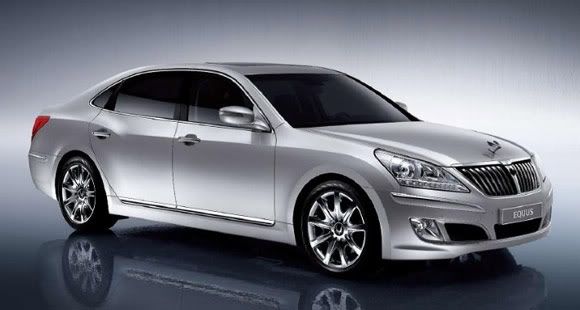 The 2012 Hyundai Equus continues to redefine intelligent luxury. Hyundai's flagship Equus successfully competes with the best sedans in the world, while adding a new level of customer experience to luxury car ownership. Since its introduction, Equus has outpaced its sales and market share expectations. Enhancements to the 2012 model build upon this momentum. Most notably, the 2012 Equus will now feature Hyundai's most powerful engine ever, the new direct injection 5.0-liter Tau V8 engine. The new engine produces 429 horsepower and is mated to a new in-house eight-speed transmission providing Equus drivers more power and refinement.
The Equus proves Hyundai can build a credible luxury sedan. It's priced to drive that point home, and it's outfitted to compete on a global level.
Although, it's only been on sale for a single model year, Hyundai has replaced the Equus' 4.6-liter, 385-horsepower V-8 with a new engine. It's the same 5.0-liter V-8 fitted into the smaller Genesis R-Spec sedan, and as it does in that car, the big V-8 is rated at 429 horsepower in the Equus, and at 376 pound-feet of torque. Hyundai says those figures put the Equus atop the 2011 Lexus LS 460 and the Mercedes-Benz S550 for overall output. And as it's done with the Genesis' V-6 and V-8 engines, Hyundai's fitted this one with direct injection.
As we've seen with many other cars making the switch to eight-speed automatics, the Equus doesn't seem to get confused by its sudden abundance of gears. Upshifts are quick and almost imperceptible. The 5.0-liter Equus certainly feels more willing, and in both the flagship four-door and in the Genesis R-Spec, the larger-displacement Tau V-8 sounds a bit richer, with a rounder exhaust note, than the 4.6-liter version.
Now. We want to know - is it any faster, though? That's a difficult thing to measure. The old Equus never really strained to deliver power, and since that car was capable of 0-60 mph times estimated at about 6.4 seconds. It's easy to see and feel this Equus ratcheting the numbers down below six seconds, what with its 44 added horsepower.
Most other mainstream automakers have created separate brands to sell their luxury cars, just as Toyota did with Lexus, for example. But Hyundai believes that such premium brands also attract buyers motivated by affordability, and its impressive Equus seems to be proving that Hyundai can compete with established luxury brands because the price is right. The 2012 Hyundai Equus offers far more space and equipment than other competing luxury sedans. In some ways, you're getting the equivalent of a loaded Mercedes-Benz S550 for a much more reasonable price.
Perhaps the one most notable attribute of the 2012 Hyundai Equus you will notice is the absence of sound – absolute silence! At idle it can seem as quiet as a hybrid vehicle with its engine automatically shut off. Once underway, things don't get much louder, as the engine is just a whisper, wind noise is virtually non-existent and only a slight muffled tire hum can be heard because everything else is so hushed. Despite such a sedate driving environment, though, the Equus isn't a sleepy-handling limousine. If you hit "Sport" this big sedan becomes more buttoned-down on the road. Without a doubt, the Equus is stable and predictable when out on the road.
| | |
| --- | --- |
| 2012 Hyundai Equus | Specifications: |
| Base Price | $93,471 (estimate) |
| Drivetrain | 6-speed, Rear-wheel Drive |
| Engine | 4.6L eight cylinder |
| | |
| --- | --- |
| Fuel Economy | 16MPG city, 24 MPG highway |
| Horsepower | 385@6500 |
| Torque (lb–ft) | 333@3500 |
| Fuel Capacity | 20.3 |
You ask, shouldn't a luxury car dealer at least have the same services as the pizza delivery man? And, it begins even before you buy the car. Since one of life's most precious luxuries is time, when you decide to test drive a Hyundai Equus, you don't even have to come into the dealership. We'll bring the test drive to you! Call us today to let us know which Equus you wish to test drive.